Executive Recruitment
Curtin University has started a global search for its next Provost to succeed Professor Jeremy Kilburn in the Future.
Welcome from the Vice-Chancellor
Our university is committed to engaging globally, with a focus around the Indian Ocean rim, and this is supported by a very vibrant and diverse student and staff community coming together from several different countries. Curtin operates campuses in Western Australia, Singapore, Malaysia, UAE, and Mauritius through which we offer a wide range of undergraduate and postgraduate courses across health sciences, business, humanities, resources, engineering, and related sciences. 
Our University is recognised for high-impact research across a range of areas, and a part of our approach we have fostered successful partnerships with industry, business, and government to enhance the quality of our scholarships, teaching, and research. 
Our people are energetic and dedicated and are the key to making our services and environment uniquely Curtin. We highly value the contribution of our employees by offering a range of employment conditions and workplace benefits which support and develop rewarding careers and healthy lifestyles. 
Regardless of who you are or where you come to us from, you will find Curtin to be a friendly and relaxed place where respect and curiosity for one another is a part of everyday life. 
We have an exciting future, and we invite you to consider joining us to help make tomorrow better.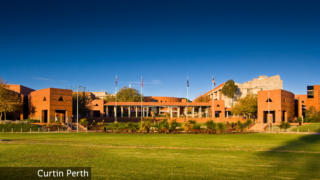 About Curtin University
Curtin University is an innovative, global technology university known for its high-impact research, strong industry partnerships and commitment to preparing students for jobs of the future. It is Western Australia's largest and most preferred university and has campuses in Perth, Malaysia, Singapore, Mauritius and Dubai. Curtin University boasts a rich diversity of cultures in its students and staff, and a commitment to serving our communities and partners.
This is an outstanding opportunity to lead of of Australia's most ambitious and dynamic young universities into its next chapter to enhance its academic performance and relevance to provide students and staff with an environment second to none, and to drive innovation and excellence for the public good.
Leadership & Organisational Structure
The day-to-day running of the University is under the leadership of the Vice-Chancellor and a group of senior officers from academic and corporate areas.
Vice-Chancellor
The University Council
Senior Executive Team
Organisational Structure
Curtin's organisational structure outlines the senior staff leading each of our portfolios. View the organisational structure here.
"The great University should find its heroes in the present; its hope in the future; it should look ever forward; for it the past should be but a preparation for the greater days to be"